Why do Children Love That Their Parent's eCargo?
Be the hero your kids need you to be. They'll appreciate your sacrifice as they grow and learn about our planets challenges. Just don't tell them that it's MUCH MORE FUN than a car anyway 😉
In today's fast-paced world, families are always on the lookout for innovative solutions that cater to both convenience and sustainability. Electric cargo bikes have emerged as a beloved choice among parents and children alike, revolutionizing the way families travel, commute, and explore their surroundings. These remarkable vehicles combine the practicality of traditional cargo bikes with the ease and efficiency of electric propulsion, creating an unparalleled experience that resonates with families around the globe. Let's delve into why children and parents have grown to love electric cargo bikes, and take a closer look at some outstanding models that have captured their hearts.
Cube Trike Hybrid Family
A partnership between 2 well known German companies Cube bikes and BMW.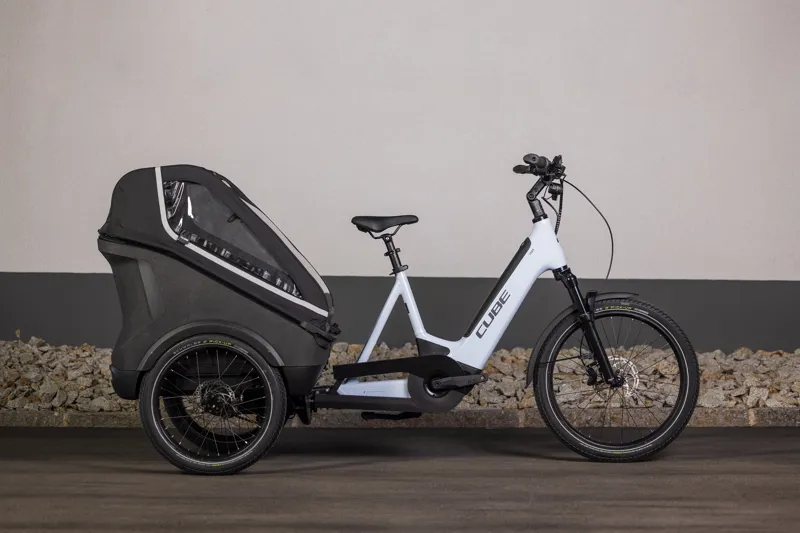 Embracing Efficiency and Sustainability
At its core, the Cube Concept Trike is designed with efficiency and sustainability in mind. Its compact footprint and streamlined shape are intended to address the growing challenges of urban congestion and limited parking space. By occupying a fraction of the road space that cars do, these trikes can navigate through traffic with ease, reducing congestion and travel times. Even better you can enjoy traffic free and more scenic cycle routes away from the toxic air pollutants released by vehicles.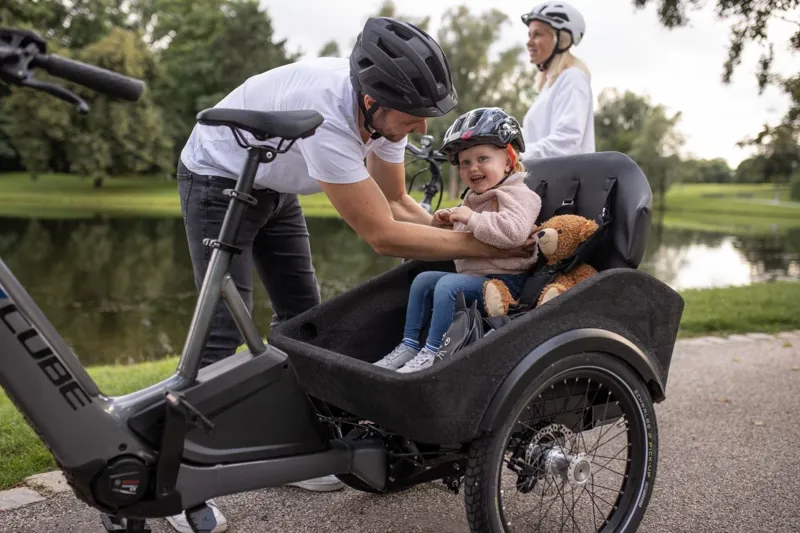 As our cities continue to grow, the Cube Trike Hybrid offers a novel perspective on the future of urban commuting. It challenges the traditional model of individual car ownership by providing a practical alternative that addresses the constraints of modern urban living.
The Cube Trike Hybrid Family offers top shelf specification with the Bosch Smart system Cargo line 85Nm combined with the Bosch 750Wh powertube battery for extended range. This will soon be compatible with the Bosch PowerMore range extender and the dual battery option if needed. The trike uses unique structural technology to remain stable on steep cambers and to feel like a normal ebike when riding giving the passengers maximum comfort and the rider confidence.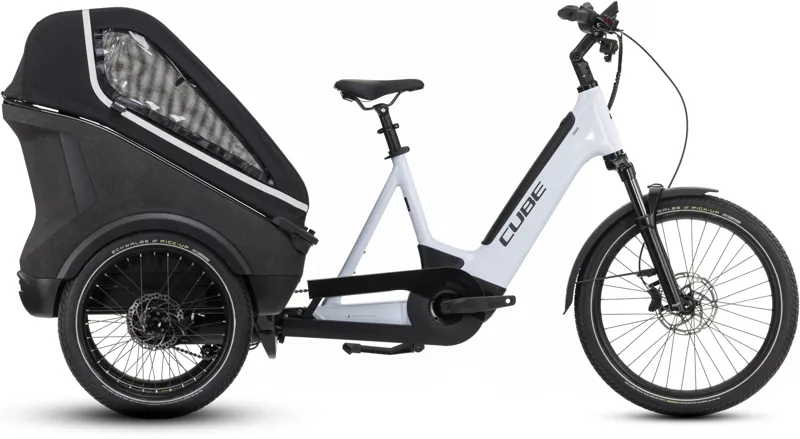 Gazelle Makki Load
The Gazelle Makki Load embodies the perfect blend of style, performance, and utility. Its sleek design doesn't compromise on cargo capacity, making it an ideal choice for urban families. With the Makki Load, parents can effortlessly transport groceries, sports equipment, and even the family pet, all while enjoying the quiet and smooth assistance of its electric motor. This model showcases how functionality can seamlessly integrate with modern design, making family outings not only practical but also incredibly fashionable.
Try the Gazelle Makki Load electric Cargo bike at our Bristol, Cambridge, Oxford or York stores.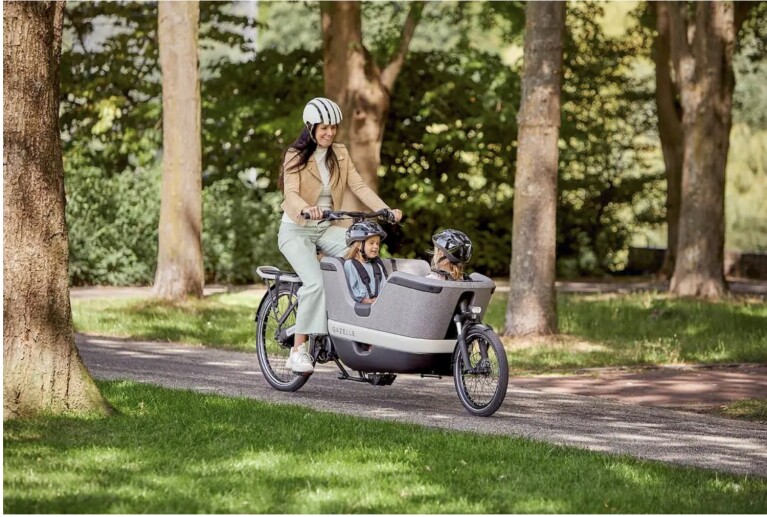 Riese and Müller Packster 70
The Riese and Müller Packster 70 redefines versatility in the realm of electric cargo bikes. With a focus on safe handling, adaptability, and desirability, this premium eCargo model accommodates a variety of cargo configurations, making it perfect for families with dynamic needs. From carrying kids to hauling goods, the Packster 70's intuitive design ensures that parents can easily transform it to suit different purposes. Its powerful electric assistance further empowers parents to conquer hills and long distances without breaking a sweat, while their children enjoy a comfortable and exciting journey.
Try the Riese and Muller Packster 70 eCargo bike at our Bristol, Cambridge, Oxford or York stores.
Riese and Müller Load4 75 and Load4 60 Vario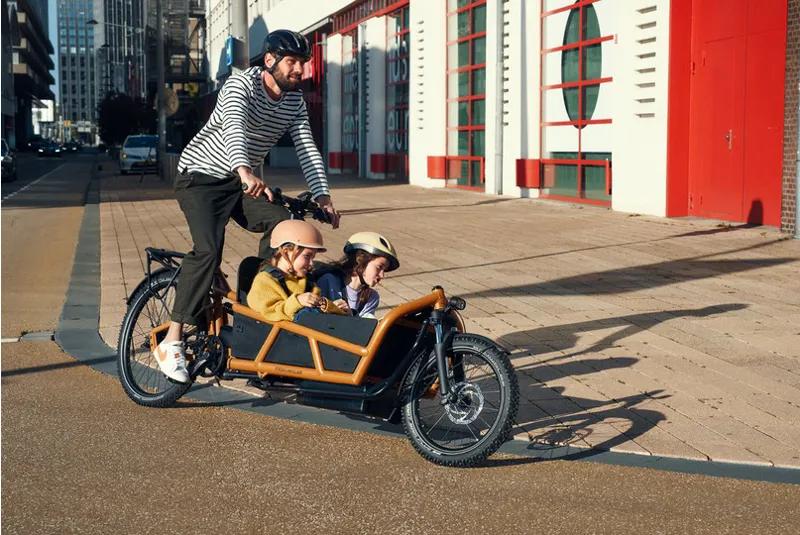 For families seeking the utmost comfort, safety and stability, the Riese and Müller Load series presents an exceptional choice. Available in both the Load 75 and Load 60 Vario versions, these bikes offer a smooth and stable ride even when loaded with cargo or kids. The sophisticated suspension system and ergonomic design prioritize safety and comfort, making every family outing a pleasant adventure. These models exemplify the perfect harmony between electric assistance and ergonomic engineering, ensuring that parents and children alike experience the joy of effortless travel.
Try the Riese and Muller Load electric Cargo bike at our Bristol, Cambridge, Oxford or York stores.
Riese and Müller Transporter2 65 Vario

The Riese and Müller Transporter2 65 Vario stand as a testament to the marriage of utility and performance. This cargo bike is designed to cater to larger families, offering a substantial carrying capacity while maintaining the maneuverability of a regular bike. The Transporter2 65 Vario is an embodiment of efficiency, enabling parents to effortlessly transport their loved ones and belongings while embracing the benefits of electric assistance. It's a true companion for families who refuse to compromise on practicality or fun.
Try the Riese and Muller Transporter 65 electric Cargo bike at our Bristol, Cambridge, Oxford or York stores.
Riese and Müller MultiCharger and MultiTinker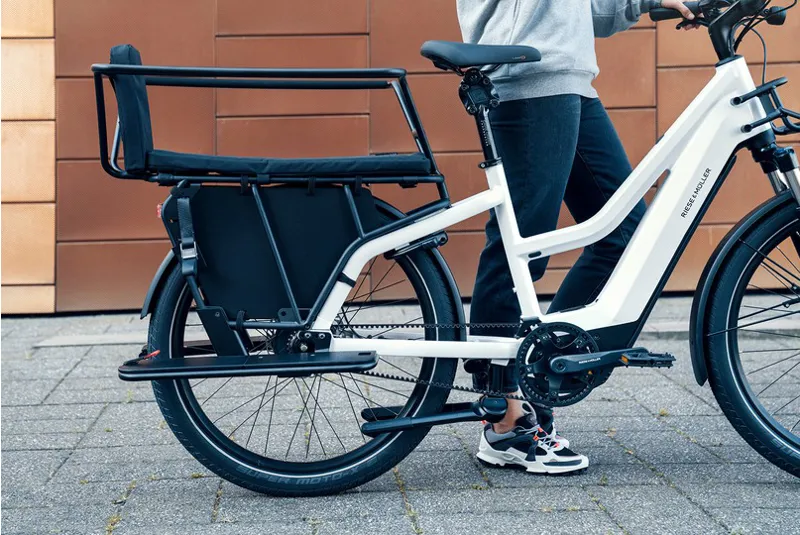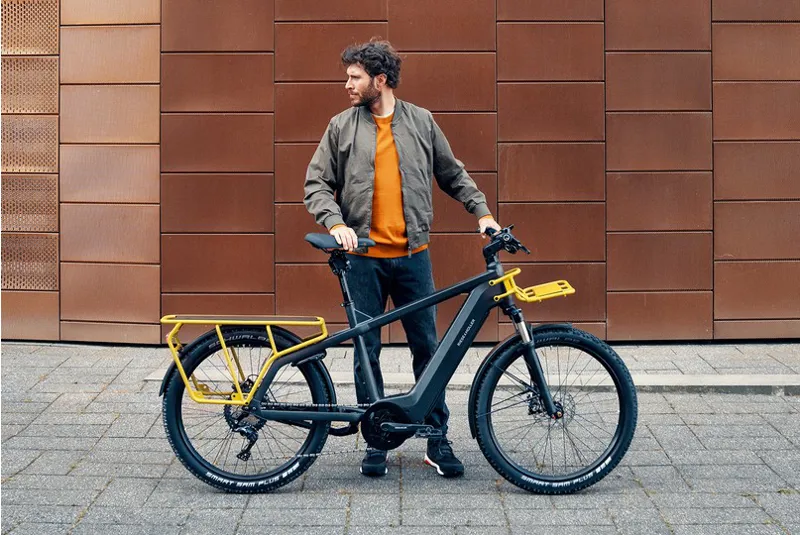 The Riese and Müller MultiCharger and MultiTinker models cater to families who demand flexibility and adaptability. Whether you're exploring city streets or embarking on countryside adventures, these bikes are built to accommodate a wide range of needs. The MultiCharger excels in carrying cargo, while the MultiTinker provides a versatile platform for carrying kids or additional gear. With these models, parents can confidently embrace the journey ahead, knowing they have a reliable and versatile partner by their side. If you want a rain cover you are able to fit the Tern storm cover.
Try the Riese and Muller MultiTinker electric Cargo bike at our Bristol, Cambridge, Oxford or York stores.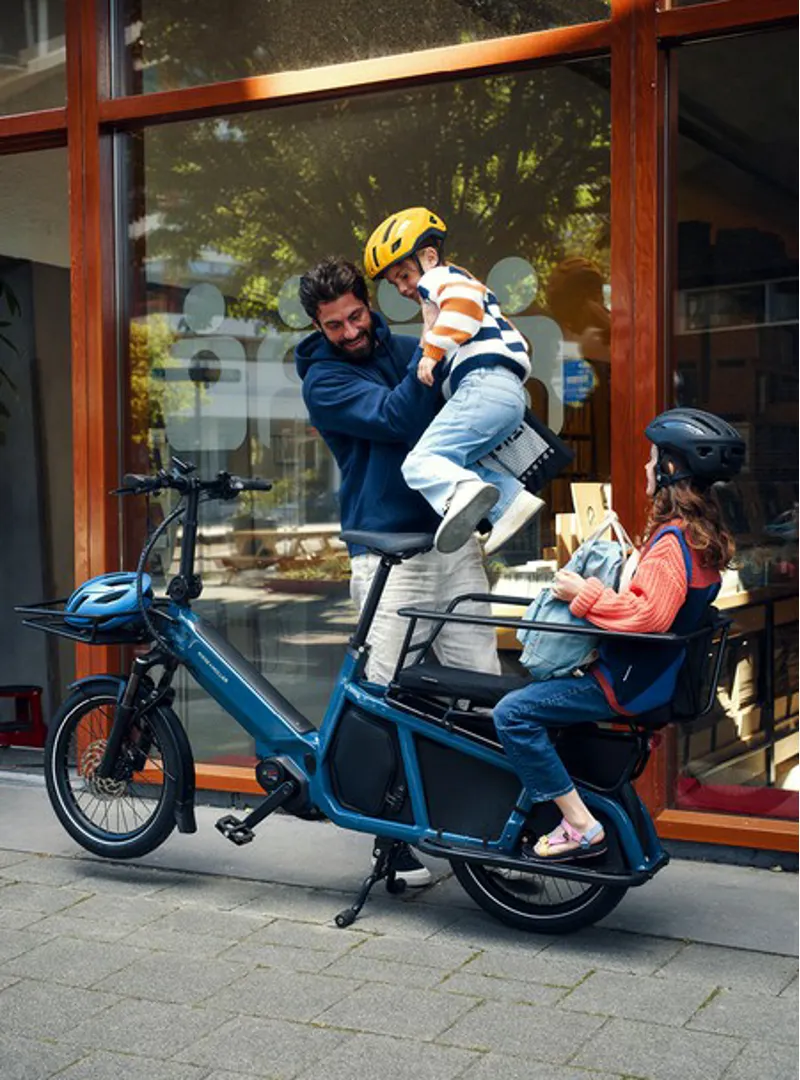 The Gazelle Bloom – an everyday eBike designed for families
1. Gazelle Bloom HMS 1. C7: Where Comfort Meets Simplicity
The Gazelle Bloom HMS C7 captures the essence of simplicity and comfort in one harmonious package. With a clean and elegant design, this bike is a testament to Gazelle's attention to detail. Shimano STePS E-5000 system provides ample assistance that feels like 3 of you pushing on the pedals instead of one – it's nice to have company when you're a tired and over worked parent. The ergonomically designed step-through frame ensures easy mounting and dismounting, making it an ideal choice for riders of all ages. Equipped with a 7-speed internal hub gear system, the Bloom HMS C7 offers a seamless and intuitive ride, effortlessly navigating urban terrains while maintaining a relaxed and upright riding posture. Whether you're cruising through neighborhoods, running errands, or enjoying a leisurely weekend ride, the Gazelle Bloom HMS C7 promises a comfortable and effortless journey.
2. Gazelle Bloom HMS 2. C380: Elevating Performance and Luxury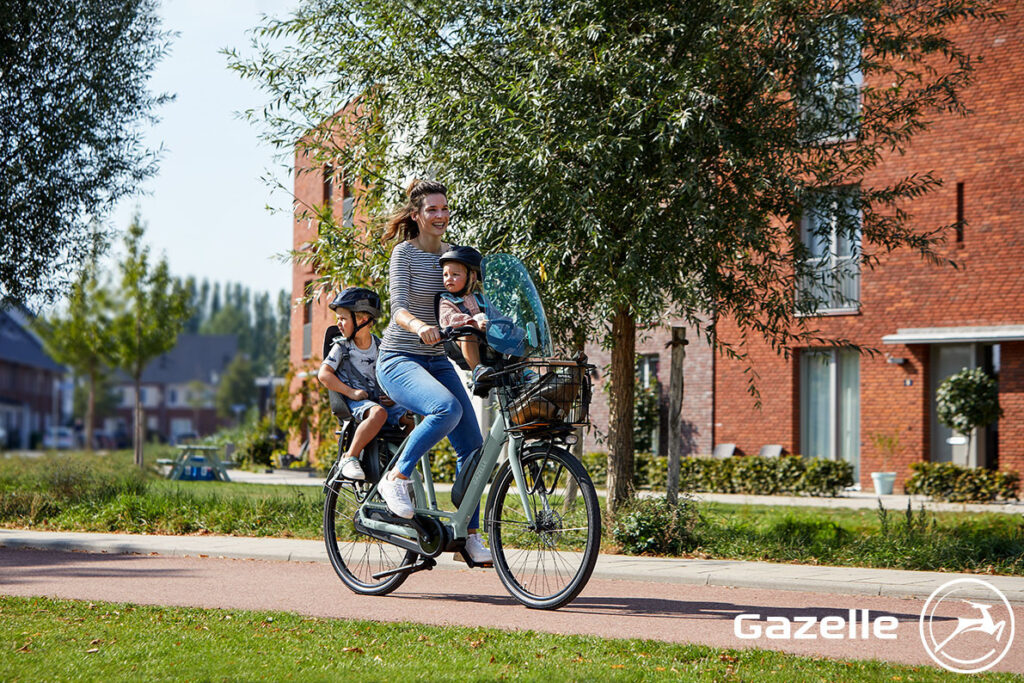 The Gazelle Bloom HMS C380 takes the concept of space saving utility comfort to new heights, combining it with a touch of luxury and enhanced performance. Crafted to cater to riders who seek both resource efficiency, practicality and elegance, this model features the advanced Shimano StePS E-6000 mid-drive motor, delivering smooth assistance as you conquer hills and longer distances being a super-parent without the cape. The step-through frame design ensures accessibility, while the Enviolo continuously variable transmission (CVT) offers a seamless and intuitive shifting experience, minimizing maintenance and maximizing ease of use – no more worrying about which gear to be in and no mre low speed wobbles when full loaded. With its premium components and attention to detail, the Gazelle Bloom HMS C380 elevates your riding experience, turning every journey into a luxurious and enjoyable adventure.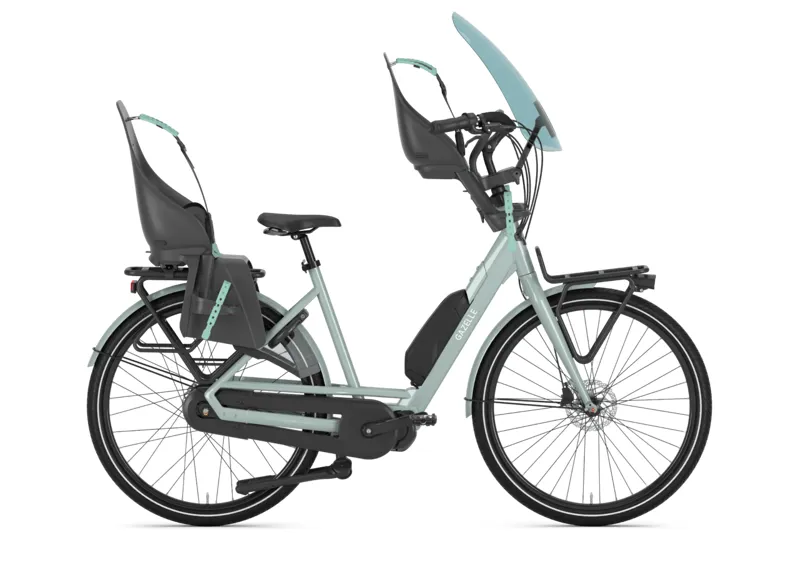 You won't believe the electric bike tech that Gazelle have packed into this stndard bike sized family eCargo….and the price….! The Gazelle Bloom HMS series, comprising the Bloom HMS C7 and Bloom HMS C380, embodies Gazelle's commitment to creating bicycles that prioritize comfort, style, utility and performance. The click on and off childseat and luggage options for the front and rear carrier racks, the wrap around handlebars with stem lock and a solid center stand so nothing moves when loading or unloading, the 2 kids and a baby-on-board potential and the enclosed chaincase and wheelguard, the built in lock make these models super-practical. Whether you opt for the simple elegance of the Bloom C7 or the enhanced luxury of the Bloom C380, you'll be choosing a bike that effortlessly complements your lifestyle, providing a delightful riding experience that's unmatched in its class. Gazelle's Bloom HMS series is a true reflection of the brand's dedication to creating bikes that resonate with riders seeking the perfect fusion of comfort and sophistication.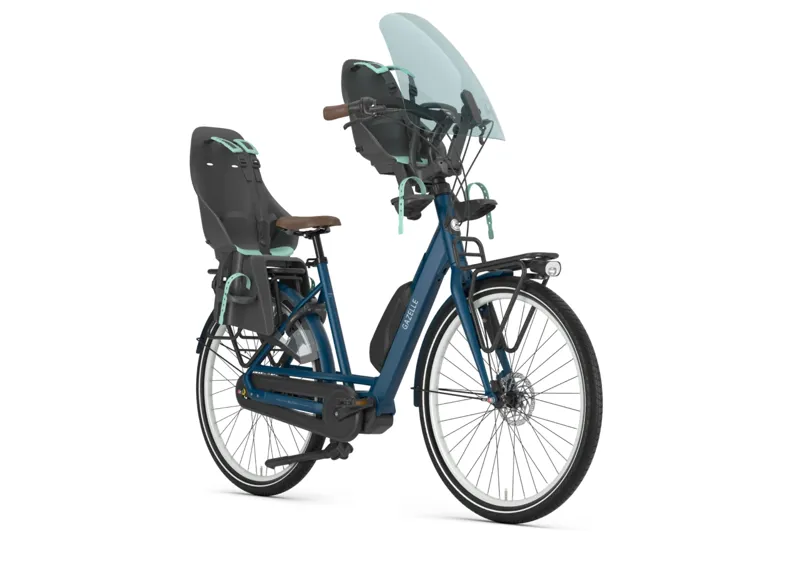 Try the Gazelle Bloom electric Cargo bike at our Bristol, Cambridge, Oxford or York stores.
In conclusion, electric cargo bikes have struck a chord with families by redefining convenience, sustainability, and shared experiences. As we've seen through the Gazelle Makki Load, Riese and Müller's Packster, Load, and Transporter2 models, as well as the MultiCharger and MultiTinker, these innovative vehicles have successfully transformed family travel into a joyful and eco-friendly adventure. With an array of options catering to diverse needs, families can now embark on their everyday journeys with excitement, comfort, and the knowledge that they're contributing to a greener future.
A huge bonus is that you save a lot of money and the inconvenience of owning and running a vehicle for the school run….and as your kids learn about climate change at school they can see that you care about their future.
Try electric Cargo bikes at our Bristol, Cambridge, Oxford or York stores.